(
Note:
Photos credited to Armidale Express and other Photographers)
http://www.armidaleexpress.com.au/story/2931043/qantas-747-400-vh-oja-lands-at-regional-airport/?cs=2452#slide=20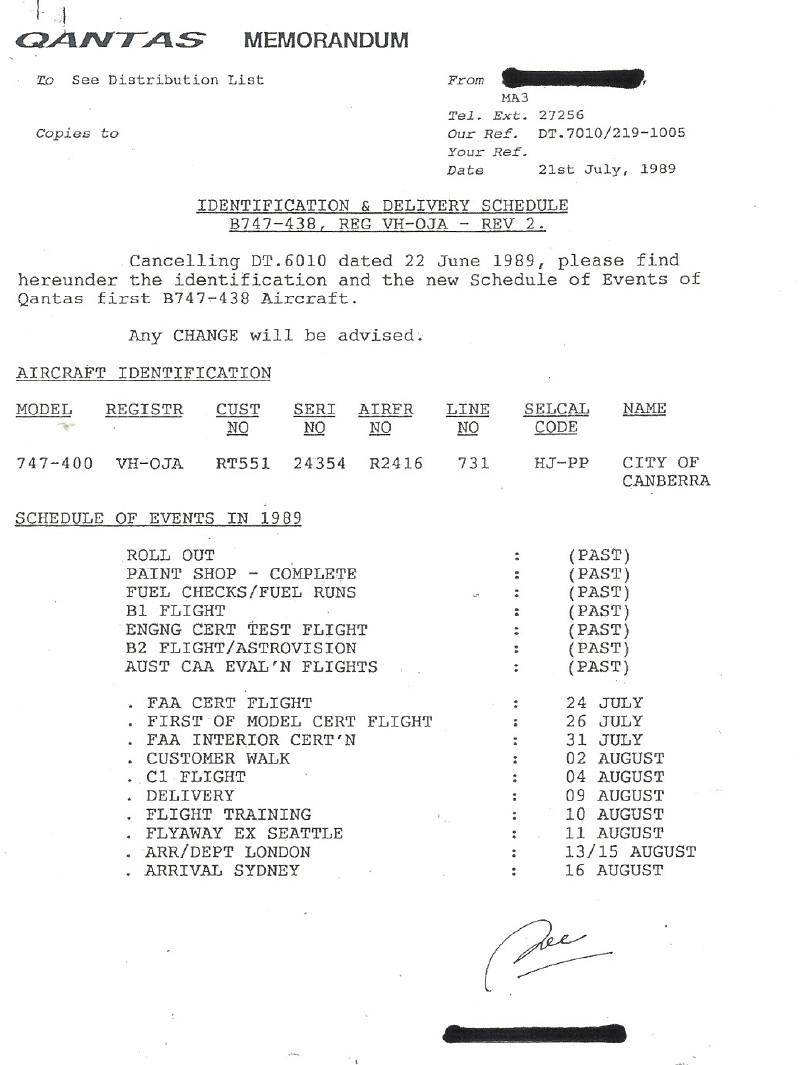 http://www.theqantassource.com/vh-oja.html#http://www.theqantassource.com/vh-oja.html
http://www.theherald.com.au/story/2931043/qantas-747-400-vh-oja-lands-at-regional-airport/?cs=2452
or
http://www.abc.net.au/news/2015-03-08/qantas-jumbo-arrives-at-wollongong/6288748?WT.ac=statenews_nsw
or
http://www.ausbt.com.au/qantas-first-boeing-747-400-makes-final-flight-on-march-8
and
http://www.aussieairliners.org/b-747/vh-oja/vhoja%20article/vhojastory.html
"It's a great day for the Irish" . . . I can just imagine Alan Joyce humming this tune. Older aircraft tend to become much more expensive to maintain in service due to less fuel efficient engines and aerodynamic technology of the day, as well as market strategy.
As of February 2015, Qantas has posted a first-half profit of $203 million, boosted by cut-price fuel and continuing cost cutting.
Qantas is forecasting total benefits from the restructuring will reach $875 million by the end of June, 16 months into the three-year program.
"The decisive factor in our best half-year result for four years was our complete focus on the Qantas transformation program," Qantas chief executive Alan Joyce said.
"Our financial position is significantly stronger because of the actions we've taken, and we are giving Qantas a solid foundation for growth in earnings."
Qantas Boeing 747-438 VH-OJA, was the oldest aircraft in Qantas fleet.
It is Boeing Commercial Aircraft Company's Construction Number 24354 (Line Number 731), delivered to Qantas, 11 August 1989. It was equipped with four Rolls Royce RB211-524G/H-T high bypass ratio turbofan engines. It was configured in the following seating classes: 56J/40W/275Y.
Boeing 747-438 "VH-OJA holds the world record for the longest ever commercial flight, non-stop from London to Sydney in 20 hours, 9 minutes and 5 seconds in August 1989."
"The aircraft flew 13,833 sectors during its 25.3 years in service, carrying 4.1 million passengers in the process. In total, it flew nearly 85 million kilometres."
Amongst the crew of four, for this epic final flight to Illawarra Airport, where the Boeing 747-400 will be the first in the world to be on permanent display, was Captain Greg Matthews, as Pilot-in-Command.
And, there are no ignition keys to start the engine(s) of the Boeing 747-400.
Good-bye to "Queen of the Skies", Boeing 747-438, VH-OJA, City of Canberra.
http://www.p_p_r_u_n_e.org/australia-new-zealand-pacific/552503-vh-oja-off-museum-7.html